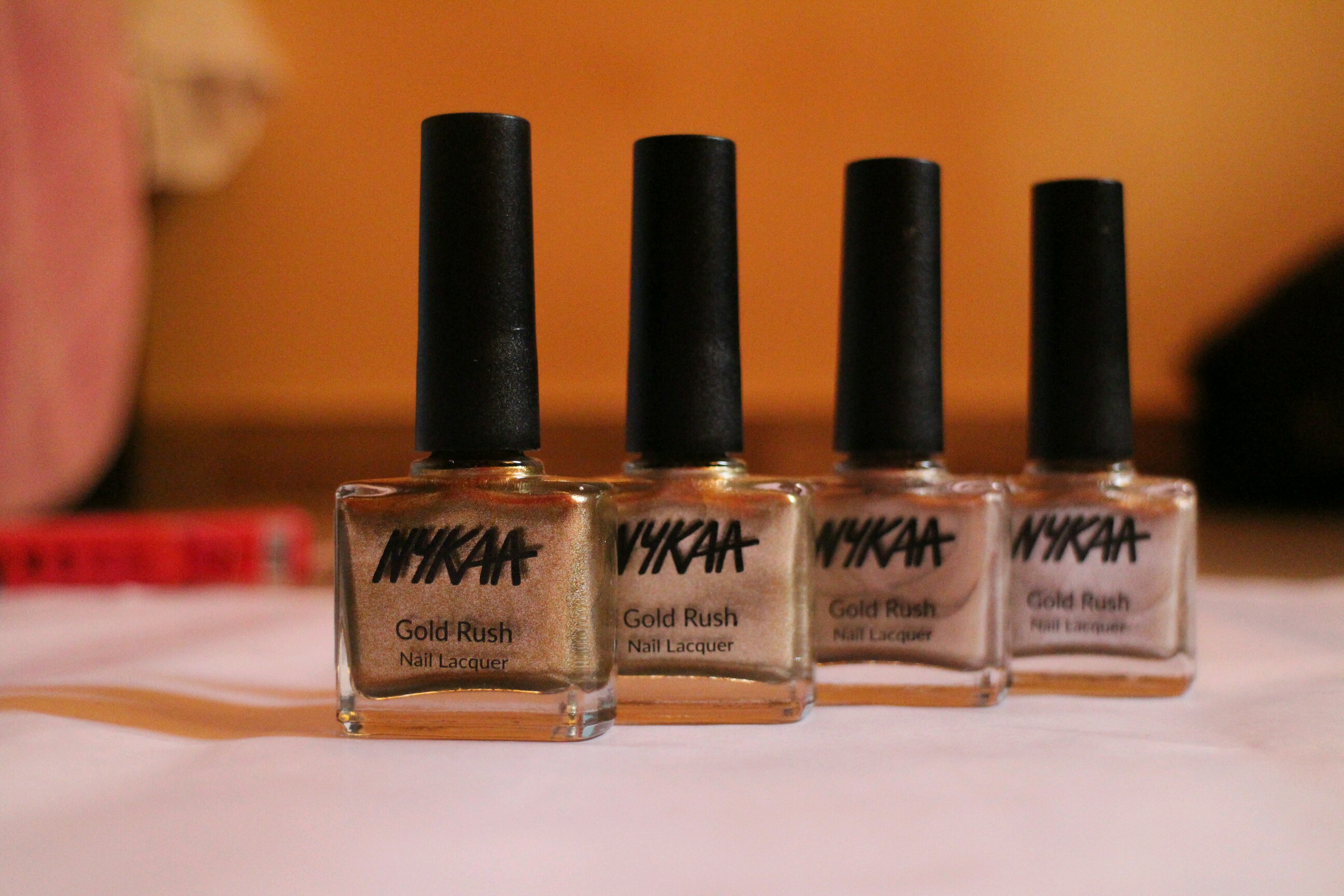 Helloo Everyone!!!!
I am hoping you'll are loving out new website as much as we are loving it. Its been a great start indeed. Hence we are working more hard to post all the reviews that were pending.
And I am here again today to review Nykaa's fairly new range of nail-paints. Nykaa's nail-paints are absolutely worth purchasing as you all must have seen in our previous post.
So the one I am talking about in this post are Nykaa's Gold Rush nailpaints. These metallic nail-paints are a must have for this festival and holiday season. Lets get into the review.
Packaging
The nailpaints have a sturdy packaging. The colour is visible through the glass bottle and the cap is of matte black colour, with nykaa Gold Rush written in Black. I really like the packaging, its like a rectangular glass bottle with long matte cap. It is secure and spill-proof. The brush is dense and applies the nail-paint evenly on the nails in one swipe.
These nail-paints are for Rs. 249/-   for 9ml  of product.
You can buy them as combo as well. And these are available in a full set too.
Shades
The gold rush nail lacquer is available in 5 shades total. Out of which I have 4 shades in
1. Gold soul.
2. Champagne gold.
3. Flicker gold.
4. Gold mine.
 Description of shades-
1. Gold Soul
This is a very subtle gold with pink sheen to it. It looks very beautiful when applied. To me it looks like a shade of gold but with pinkish-copperish undertones.
2. Champagne Gold
This is a very pretty gold colour with chamgagne coloured sheen (thus, the name I guess ?). This is more on a copper side and is a flattering on all skintones. My personal favourite for sure.
3. Flicker Gold
This one is a very much closer to actual real gold colour. You know a subtle gold colour, which is not too yellow but still looks very much intense. This looked stunning when I had applied it on a wedding with my saree.
4. Gold Mine 
This is "THE" gold colour in this range. This is exactly how gold colour looks in person. Somehow I din't like the this shade as much because it looked really yellow on my skin, but this shade does look beautiful on darker skin tones.
Texture
These nail-paints have usual texture. These are pigmented and in one swipe they cover the nails quite nicely. Two coats of the product is enough to give you good colour and beautiful looking nails. They have no smell to it as such, they don't feel drying or tacky. Goes on smooth and evenly. The brush is sturdy and dense as well. They have a good sheen to it which make them look more beautiful and ohhh – so festive.
Colour payoff
The colour pay off of the nail-paint is great. With one coat you get a good pay-off for a subtle look and if you wish to have a good coverage then you can layer it with second coat and it looks very pretty as well. They cover the nails pretty well as the brush distributes the product quite evenly.
Longevity
These stayed a for a good 5-6 days on my nails. But somehow different shades had different period for which they stayed on my nails. The shade Gold Soul was the one which started to chip off the very next day. Rest of the shades stayed on for around 3-6 days maximum.
Removal process
These are not quite easily removable when you have applied 2-3 coats. For a single coat however, these get off quite easily. They don't leave your nails looking yellow or leave behind any cast on your nails.
Over all thoughts
To summaries my over-all experience, I really loved these nail-paints. They look very beautiful and give you a very festive look in a jiffy. Its like wedding and festivity in small bottle. I had thoroughly enjoyed applying them in every wedding function that I had attended. And frankly, they have such amazing shades, like i never thought gold can come is so many different variants. Hence, having these many shades was so much fun. I really like how champagne Gold colour looked on my hands.
Ratings – I would give them 4.5/5
Lots of love,
Priyanka. ?
Comments
comments