With the festivals knocking at the door, we want to make sure we look the best. Hope you are getting ready for the Festive season.  If you are still confused on what to buy for makeup and don't want to have a hole in your purse, I suggest you subscribe to the FAB BAG.  Find out what I got in my Sept 2018 Fab Bag
If you are looking for some fabulous beauty products to try and don't want to spend much. Try the "Sensational Six in September Fab Bag".
If you wish to see older fab bag post click below for
Whats in Sept 2018 Fab Bag
If you wanna know what I got in this month's Fab Bag continue reading.
For those who do not know, Fab Bag is one of the First beauty subscription boxes in India. Like any subscription box, you get to subscribe to them for 1 month, 3- months, 6 – months or 12- months subscription.
Each month they would send you 3-4 Beauty or skincare products full or sample sized products for you to try them.
PRICE
It is priced for INR 599/- per month.
Where to buy: Buy it from the website here
Sept 2018 Fab Bag
The September month being the anniversary month and its 6 years to FAB BAG , this months theme is " Sensational Six in September"
The FAB Bag this month is made of faux leather and has digital prints over it. Its quite chic and has a lot of space. It can be used for multi purpose.
Sugar Its A pout Time Vivid Mini Lipstick
This is a mini size of Sugar's Its A Pout Time Vivid Lipstick. Prices for Rs 270/-  for 1.7 gms of product
Sugar Uptown Curls Water Proof Mascara
I haven't used the sugar mascara till now. Hence I was super excited to get this one. This is a full-size product for INR 499/-.  
Face and Body Scrub
A full size tub of Rejuvenating Face and Body scrub from "The Herbal Blend"
It is priced for INR 580 /- 
Oharia Raatrani and Mint Facial Mist
I got a deluxe sample of 50ml priced for INR 360/-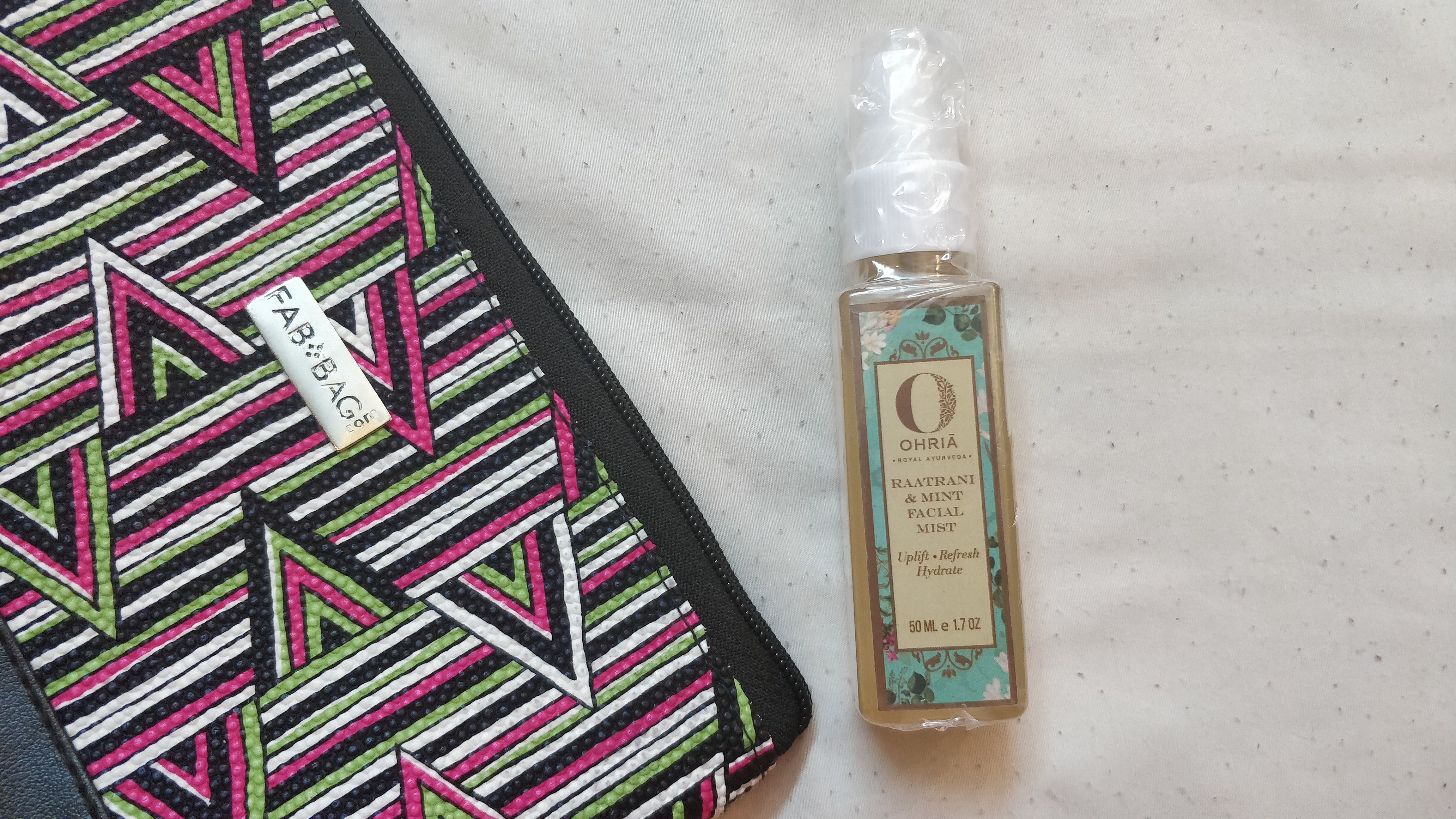 Bollyglow Bamboo sheer Face Mask
I love sheet masks if you do not already know. Read this post. I am super excited to try this one from Bollyglow. 
It is priced for INR 195/- and each pack contains 1 sheet mask for single time usage. 
Sebamed Olive Face and Body Wash
The last thing I have in my September 2018 Fab Bag is a Face and body wash from Sebamed. I got a 20 ml sample which costs INR 67/-
So these are the products I have recieved. I am super excited to try the sheet mask and The Sugar Pout time mini lipstick will surely find its place in my office bag for the quick makeup fix. 
Do you like these subscription boxes? What all did you get in your September Fab bag? Leave a comment below and let me know.
Follow Every Little Thing: Happiness on
I am taking my Alexa rank to the next level with Blogchatter.
Global Rank (19th Sept, 2018): 1,075,872
India Rank(19th Sept, 2018) : 47,477
Comments
comments