For the first 25 years of my life, Navratri was 7 days of fasting followed by halwa poori when we did "Kanjak" on Ashtami and that's about it. However, this changed in 2010 when this Punjabi Kudi married her Bengali classmate. In Oct 2010, I visited Kolkata and was mesmerized by the architecture of the magnificent pandals and it's decors & the myriad of Durga Idols in its various avatars.
I distinctly remember having visited 31 pandals in 4 days and not even one Durga Idol, one puja pandal was same. That was the beauty and marvel of Puja in Kolkata. Hats off the sculptors who created them and Bengali ethos which took it to different levels each coming year.
The Magnificent structures of the pandals, the bright and decorative lighting all over made it difficult to whether it was day or night. That was the beauty and marvel of Puja in Kolkata.
Year after year till 2015 Durga Puja for us meant Pandal hopping. However, in 2016 I understood the real essence of Durga puja for Bengali. Why is Durga puja special?? Read on if you want to know
Durga Puja is about the worship of Goddess Durga

Durga Puja (দুর্গাপূজা) is the oldest tradition of Bengali Hinduism. 
Durga Puja festival is also the largest festival of Bengalis. West Bengal is the birthplace of Durga puja festival which spread far & wide in the eastern Indian states like Assam, Odisha, Bihar. Durga puja is not only the most prominent & largest festival of West Bengal, it is also culture carrier of Bengali people
There are a lot of variations in worship, practices, and rituals associated with Durga Puja. This is probably true with many other festivals in Hindu culture. The beauty of Hinduism is that it accepts flexibility and leaves the set of practices to the choice of the individuals of that region/ area.
Rituals of Durga Puja can be different in the same areas, as well as regionally. These variations are accepted across temples, pandals and within families.
However, unmistakably the festival draws its essence, culture & ethos primarily from Bengali Hindus, and even there the community grants freedom of variability and accepts differences. Some Puja are flamboyant, some are simple. But all Pujas have the essence of worship of Durga Ma. 
Durga Puja is about connecting emotionally with the Goddess
Come Autumn and the Sheuli Flowers will fill your hearts with the happiness of Durga puja coming close.  The times when everyone comes together to welcome Ma Durga and her children to her paternal home.
When we say welcoming the goddess Durga, we consider Durga as our daughter. During Dura Puja, she visits her father and mother with her four children leaving her husband shiv in Kailash for four days.
I am sure we understand the emotions and excitement of going to our parents home. Its Celebration and happiness everywhere.
Each Bengali is a different person for these 5 days. When we do Sindoor Daan and bid adeiu to Durga Ma, we cry happy tears as anyone would cry during the Bidaai of their daughter.
Durga Puja is about indulging in the delicious Bhog
When we visit our parents home we are served with all kinds of our favorite food. In the same way when Maa Durga descends from her home on the auspicious occasion of "Mahalaya"  we make sure our Daughter "Durga" and her kids are served their favorite food.
The "Bhog" is made with utmost love and affection by the ladies and offered to her during Artis and Puja. During this period the family members including the kids pay their obeisance to the Goddess. Mantras are chanted by one and all . Thereafter prasad is relished by everyone.
In sum & substance value, culture & most importantly the baton is passed on to the next generation to be carried forward. That is why while the Pandal architecture & glamour has undergone a change but the essence of Puja has not been lost. It remains as it was ages ago. That's the beauty of Bong culture.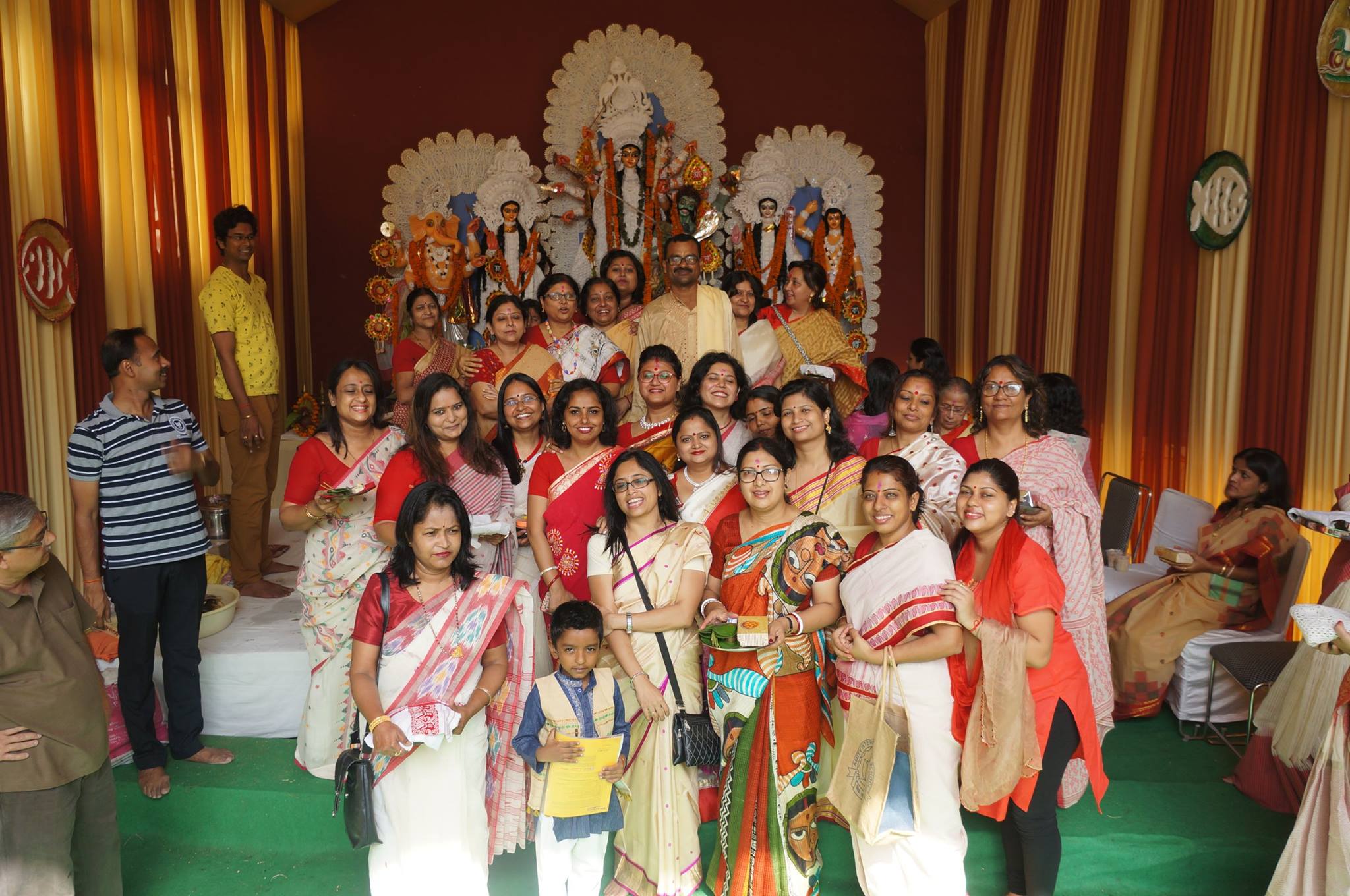 Durga Puja is about reliving your happy times with friends and families
While the family is together its fun time. Family members enjoy games, music. To make kids also feel special and part of the entire celebration various activities are organized during the four days to imbibe the culture of art & literature.
Durga Puja is Hope
With each day, we realise Durga ma will go back to her home in Kailash. We know she keeps watching us and blessing us from there. We bid her loving goodbyes with the hope of seeing her the next year. With the hope 
"Asche Bochhor Abar Hobe" 
Check out Ganesh Chaturthi celebration from Mumbai
===========================================================
This Durga Pujo follow me and my fellow bloggers as we take you on a journey into the heart and soul of the Durga Pujo celebrations! Read, Comment, and Share and don't forget to follow the hashtag #bloggersdurgapujo
List of Participating Bloggers
Dr. Amrita Basu (Misra): https://healthwealthbridge.com
Anupriya Gupta:  https://hehttp://www.mommytincture.comalthwealthbridge.com
Esha Chakraborty: https://bookhippo.wordpress.com
Indrani Ghose: https://isharethese.com
Kapila Rattan Bhowmik: http://www.everylittlethinghappiness.com
Dr. Kuheli Bhattacharya: http://www.thefoodietrails.com
Moumita Sen: https://www.socialconnoisseursblog.com
Nehal Roy: http://www.easyhomeremedies.co.in
Paromita Biswas: https://goodtimestrails.com
Rahul Basu: https://bongfooodie.com
Sayanti Mahapatra: http://bingeonbasics.com
Shalini Magdel Das: http://lostloveadventure.com/
Shamik Byabartta: http://www.mixedflavorsblog.com
Sharmishtha S Ghosh: https://letstalkjhaalmishti.wordpress.com
Shruti Dugar: http://webofwords.in
Siya Bose: https://bestylechic.wordpress.com
Sonali Chauhan: https://sonalichauhanreviews.wordpress.com
Sonia Chatterjee: https://soniasmusings.com
Vasundhara Sarkar: http://thesassyshimmer.blogspot.com
Follow Every Little Thing: Happiness on
Comments
comments